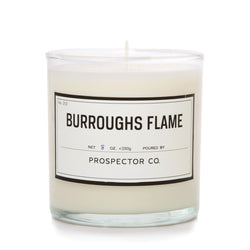 Burroughs Flame
The scent of Burroughs Beard Oil is infused into this candle, making for an aromatic room filled of freshly chopped forest woods, a dusty carpenter's workshop and the deep leathered richness of a cobbler's apron. The scent is classic and masculine and not to be confused with the scent of a beard.
Hand-poured with pure essential oils and quality fragrance oils with smooth vegetable wax blend. Reusable sturdy glass tumbler, great for added whiskey sipping warmth.
8 oz. glass tumbler with cotton wick 
packaged inside kraft box. 
Burning time of 30+ / 60+ hours.