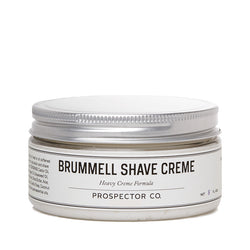 Brummell Shave Creme
Best known for his sharp wit, book-smart manners and impeccable sense of style, George Bryan Brummell was the quintessential English dandy. His way of life may be a thing best kept in the 1800s but his self-indulgent grooming habits are something modern men could learn from. It was said that the eccentric Mr. Brummell shaved his face several times a day and would pluck out any remaining hairs with tweezers. After inheriting a sizable fortune, Brummell dedicated his life to an excess of all things fancy.
This heavy creme formula is the best way to achieve that close-for-comfort shave without leaving your skin dry and irritated. Combined with a minty freshness and a rich argan oil moisturized finish, this shave creme will keep your face feeling fit and fresh as you go about your daily routine. Apply over a face pre-soaked in Miss Annie Jones Shaving Oil for added wealth.

Available in an 8 oz. pet jar with aluminum lid.
Aqua (Water), Glycerin, Sodium Cocoyl Isethionate, Sorbitol, Propylene Glycol, Disodium Lauryl Sulfosuccinate, Stearic Acid, Sodium Chloride, Diazolidinyl Urea, Iodopropynyl Butylcarbamate, Tetrasodium EDTA, Aloe Barbadensis (Aloe Vera) Leaf Juice*, Cocos Nucifera (Coconut) Oil*, Argania Spinosa (Argan) Oil*, Butyrospermum Parkii (Shea Butter), Ricinus Communis (Castor) Seed Oil, Carrot Seed Extract, Kaolin, Tinasan, Potassium Sorbate, Menthol, Titanium Dioxide, Mentha Piperita (Peppermint) Oil, *Certified Organic.