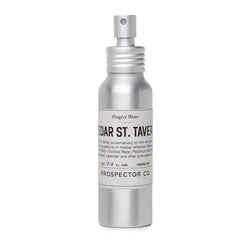 Cedar St. Tavern
Beginning in 1866 in New York's financial district, the Cedar St. Tavern saw several locations until settling into the 40s bohemian neighborhood of Greenwich Village. It was during this time that many of America's most prolific painters, writers and musicians congregated over drink and intellectual banter. The 50s brought in the New York School with Pollack, de Kooning, Rothko, Kline, and writers like Ginsberg, Kerouac and Corso. This location signifies an inspiring moment in history, with its stories and creative caché that will most likely never happen again. This scent takes its name from this place in time and an aroma of worked-in attire, old-fashioned 50s spritz, and a carefree regime best describe it. The notes that carry it and the unsubtle attitude of the person wearing it make it happen.
Created from an age old perfumer's technique with the modern man in mind, this scented body spray is best used as a refreshing wake-up for the face and garb. Midday meetings and post-work occasions call for this scented spray and its rich rustic notes and cooling aftereffect. The formula is safe for clothing and all skin-types and will bring back your pre-day freshness, even at midnight.

Available in a 2.7 oz. aluminum bottle with spray dispenser.
Patchouli, Oak Moss, Tonka Bean, Lavender and other pure essential oils.