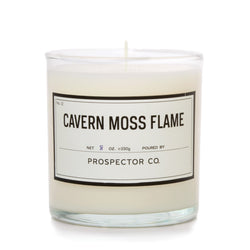 Cavern Moss Flame
The smell of Savannah, Georgia, blended together into a simple and clean eco-soy candle. The musky spanish moss hanging from oak-lined streets, dampened pine mixed with a subtle drying floral arrangement hanging from above make up the scent of the flame. Lit best on cold autumn nights or like us, during the Indian summer spells and outdoor dinners.
Hand-poured with pure essential oils and quality fragrance oils with smooth vegetable wax blend. Reusable sturdy glass tumbler, great for added whiskey sipping warmth.

8 oz. glass tumbler with cotton wick 
packaged inside kraft box. 
Burning time of 30+ / 60+ hours.