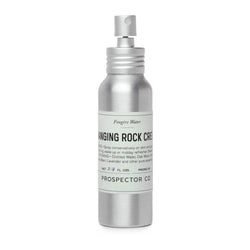 Hanging Rock Creek
The Hanging Rock Creek runs its way through northern South Carolina and was the site of Sumter's battle of 1780. The haunting, arched stone and present-day tranquility of the surrounding land is the inspiration for this scent. Like a classic American Pastoral, the scent is earthy and lived-in with hints of warm wheat and aging perennials. The loose and airy scent of Hanging Rock Creek is the final combination of oils in the trio of fougère waters.
Created from an age-old perfumer's technique with the modern man in mind, this scented body spray is best used as a refreshing wake-up for the face and garb. Midday meetings and post-work occasions call for this scented spray and its rich rustic notes and cooling aftereffect. The formula is safe for clothing and all skin-types and will bring back your pre-day freshness, even at midnight.
Available in a 2.7 oz. aluminum bottle with spray dispenser.
Elemi, Palo Santo, Tonka Bean, Lavender and other pure essential oils.