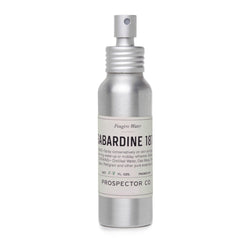 Gabardine 1879
Created from an age-old perfumer's technique with the modern man in mind, this scented body spray is best used as a refreshing wake-up for the face and garb. Midday meetings and post-work occasions call for this scented spray and its rich rustic notes and cooling aftereffect. The formula is safe for clothing and all skin-types and will bring back your pre-day freshness, even at midnight.
The first in our series of fougère waters, the Gabardine 1879 gets its name from the classic fabric by the same name. Invented by Thomas Burberry in 1879, its tough and durable fiber weave made gabardine the perfect choice for weathering the elements when sewn into a perfectly tailored suit or multi-pocket hunting jacket. This sense of long-lasting wearability for both the businessman and outdoorsman best describes the fabric the scent of the Gabardine 1879.

Available in a 2.7 oz. aluminum bottle with spray dispenser.
Oak Moss, Tonka Bean, Pettigrain and other pure essential oils.