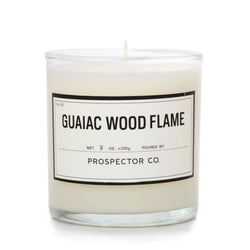 Guaiac Wood Flame
Oil of Guaiac is produced through steam distillation of a mixture of wood and sawdust from Palo Santo and with it comes an earthy, rustic, old-world aroma. Mixed with various other trees and herbs, this candle evokes a medieval storybook tale of forest adventures, fireside anecdotes and battlefield musk. Burning leaves, wet woods, small-growth herbs and twilight best describe its scent.
Hand-poured with pure essential oils and quality fragrance oils with smooth vegetable wax blend. Reusable sturdy glass tumbler, great for added whiskey sipping warmth.
8 oz. glass tumbler with cotton wick packaged inside kraft box. 
Burning time of 30+ / 60+ hours.