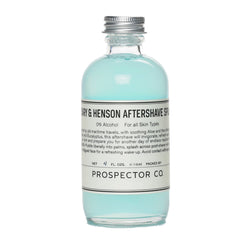 Peary & Henson Aftershave
This aftershave splash takes its roots from old maritime travels. The arctic blue color and the chilling smell of bay leaf and coriander brings to mind the voyage of Robert E. Peary and Matthew Henson who were the first explorers to reach the North Pole. Peary and Henson were the most determined and steadfast explorers having made several record-breaking attempts. In April of 1909, along with 4 eskimos, reached the highest point on earth.
Witch hazel, cedar water and aloe bring the bay to life and fresh Rosemary adds a sharp bite. The smells and properties of this aftershave will invigorate and refresh your skin to prepare you for another day of endless nautical miles. 

Available in a 4 oz. glass bottle with orifice reducer.
Hamamelis Virginiana (Witch Hazel) Distillate, Organic Aloe (Barbadensis), Distilled Water, PolySorbate 20, Vegetable Glycerin, Pimenta Racemosa (Bay), Commiphora Myrrha (Myrrh), Rosmarinus Officinalis (Rosemary), Eucalyptus Globules (Eucalyptus), Pinus sylvestris (Pine), Lavandula Angustifolia (Lavendar), Melaleuca Alternifolia (Tea Tree), Phenoxyethanol.