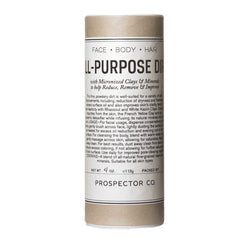 All-Purpose Dirt
This fine, powdery dirt is well-suited for a variety of skin improvements including appearance of dryness and flakiness, excess surface oil and also improves the look of skin's texture with Rhassoul and White Kaolin Clays. USAGE:–For facial usage, dispense conservatively into palms, gently brush across face, lightly dusting the surface. Use as needed for excess oil reduction and evening out of skin surface. For cleansing the body, blend with warm water and gently massage across skin, allowing for saturation. Wash away clean. For best results, dust away clean from face to reduce excess color and allow for further saturation of skin surface. Use daily for improved pore-cleansing results. 
Suitable for all skin types.
Available in a 4 oz. kraft shaker-lid tube.
A blend of fine-grained clays and minerals.
Mire Mask: Mix with warm water and blend until 
paste-like
 substance is formed. Apply 
layer
 to face and neck, avoiding eye area. Let dry for 15-30 minutes until gently washing away.
Dry Shampoo: Depending on hair type and level of excess oils, dispense into scalp and hair in conservative amounts. Repeat until desired absorption and dryness is achieved. Washes out.