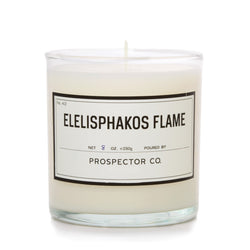 Elelisphakos Flame
Theopharastus writes about a cultivated stage of Sage he called Elelisphakos. The herb was said to ward off evil and also used as an anesthetic for the skin. It's magic and mystery has inspired civilizations and its sweet, earthy bite creates a calming, cleansing effect. This candle, blended with other herbs and flowers brings about the smell of cold caves, spring dew, and overgrown gardens.
Hand-poured with pure essential oils and quality fragrance oils with smooth vegetable wax blend. Reusable sturdy glass tumbler, great for added whiskey sipping warmth.
8 oz. glass tumbler with cotton wick packaged inside kraft box. 
Burning time of 30+ / 60+ hours.